Case Study
TIM Investor
Challenge
Design a new product that allows traders and portfolio managers to use the the TIM Indicator in their trade timing process, or find interesting stocks to investigate further.
The Indicator is a rating of each stock from 1 to 10. It's predictive of stock prices and is based on the aggregate sentiment of thousands of brokers.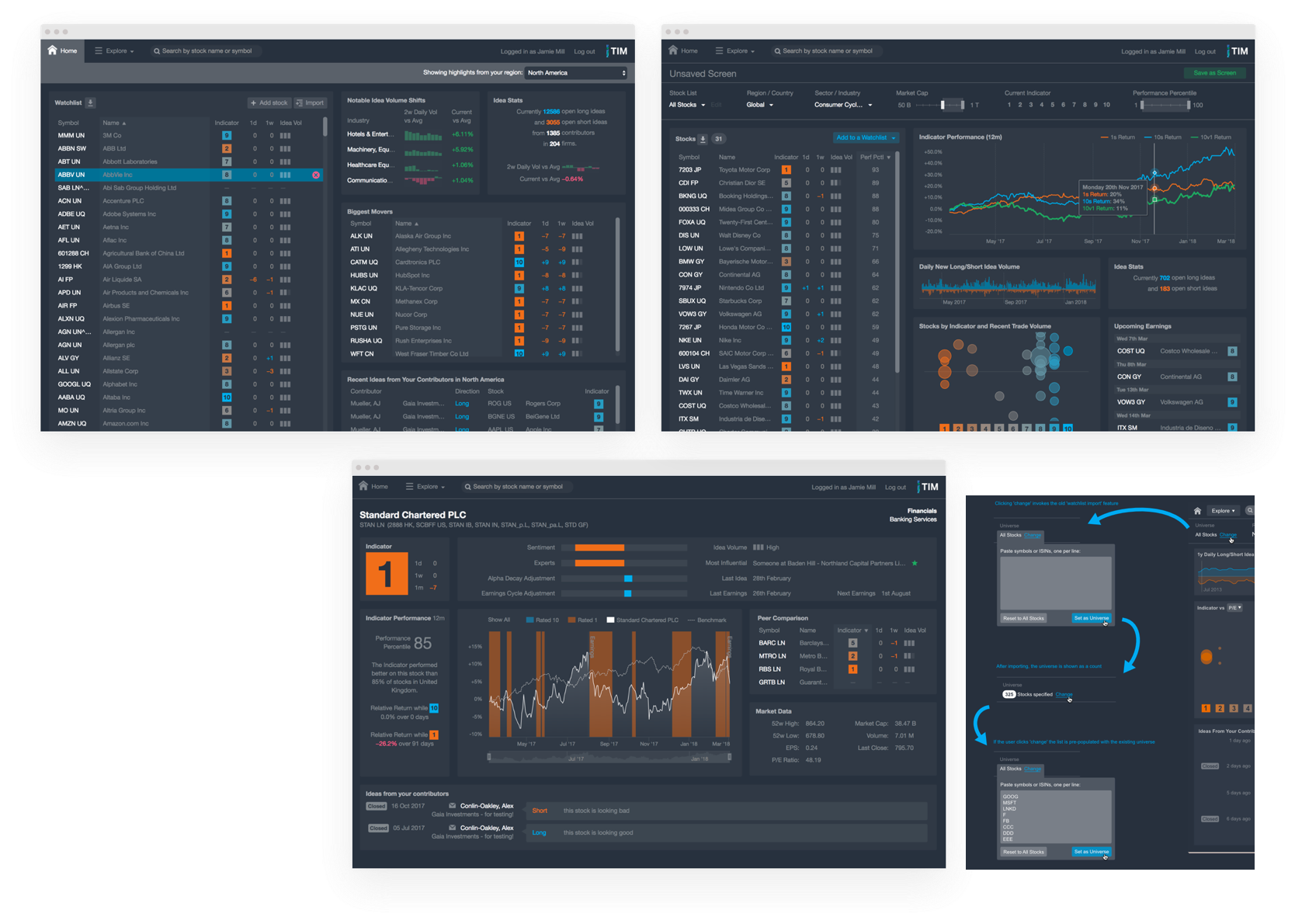 UX design: Stock screener
For a typical feature I'd take the Product Owner's ideas, do some competitive research, and run a design studio workshop with engineers.
For the stock screener, the PO envisioned a query builder but I wondered if we could treat it more like natural navigation. I ran a design studio to gather ideas, and refined it with usability testing of a paper prototype. It worked really well and became the heart of the application.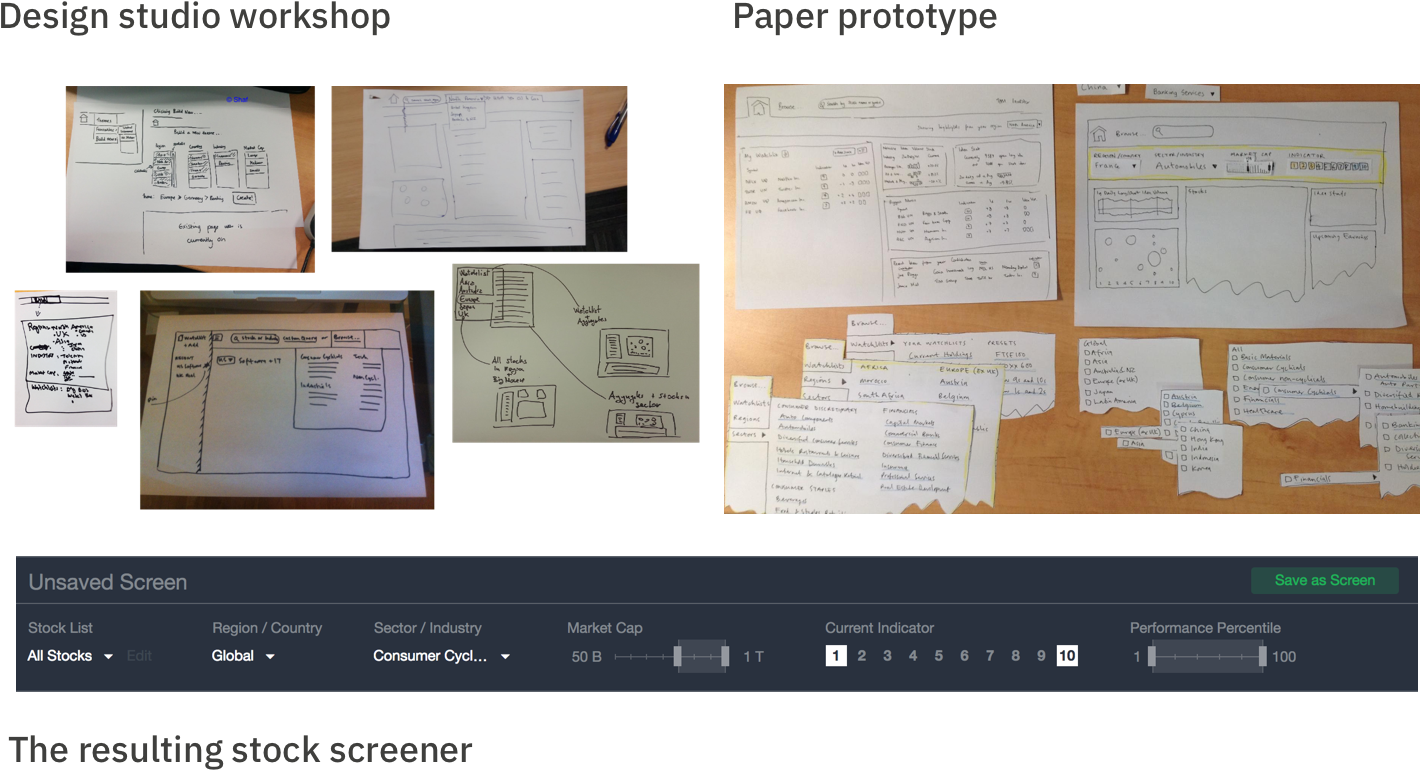 UI Design
After experimenting with dark and light UIs, we chose dark because:
Customers spend a lot of time dark UIs like Bloomberg and told us they don't like switching back-and-forth to light UIs
The dark UI made the data stand out well on screen
It was seen as beneficial to the business that it looked significantly different to our legacy product
The dark UI was problematic for printing screenshots in marketing material, though - meaning I had to make special versions with bold white text to compensate.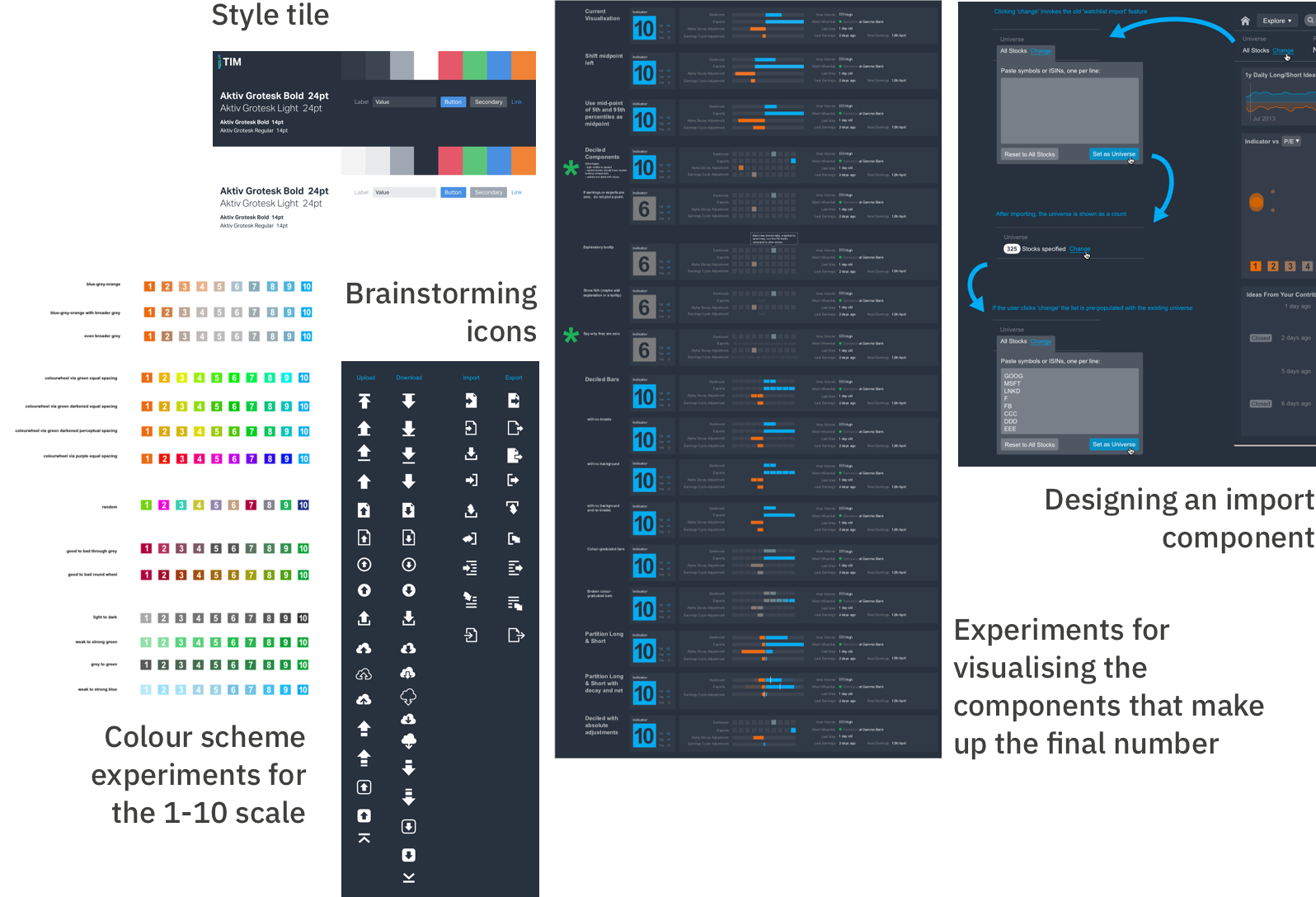 Outcome
TIM Investor allowed us to test the value proposition of the signal with a diverse range of customers.
I'm proud of the speed at which we brought a brand new product to market, and the collaborative design I did with the business expert.
Looking Back
Went Well
Converting the output-based request to outcomes, and designing from there led to a radically different (and hopefully better) design.
Applying the principle of "no modes", and letting the user interact with domain objects (Industry, Region etc) worked well.
The PO and PM were remote, in our New York office, and that did make collaboration hard at times. But Google Hangouts and Docs, and the occasional cross-atlantic trip helped.
Could Improve
We weren't fully invested in a metric-driven approach. The success criteria gave us a shared view of expectations, but we didn't build a process around reviewing usage and deriving learnings since there were many parallel efforts going on in sales and financial metrics to find a product-market fit, and we quickly moved on to other features.
I didn't do any first-hand research with users due to this being a primarily sales-led effort, with most prospects in a different country. I had to rely on second hand information about how well this was working for people.